Classic Sienna Raised Garden Bed 'L' Shaped 12' x x 11" - 1" Profile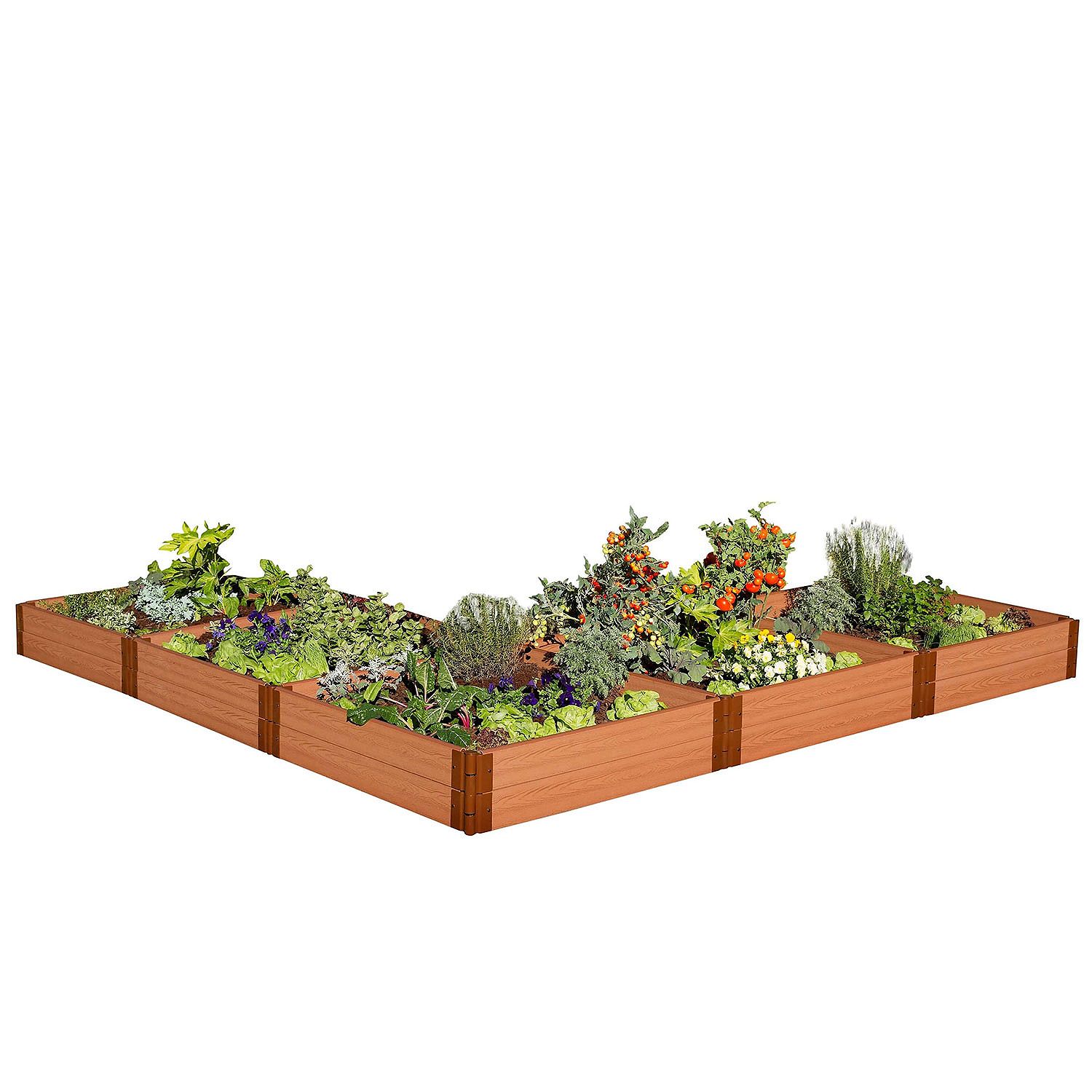 Description
The perfect raised garden bed for fitting into a corner, or creating unique landscaping areas and details to change the look and flow of your garden. If you'd like an out-of-the-way garden, tucking this raised bed into a corner of your yard is a great use of space. The 'L' Shape also provides opportunities to create grand entrances, and secluded patio areas. Imagine how an 'L' shaped garden on either side of your back-patio door would create a flower or vegetable lined pathway to your yard, and make it super-easy to run out and pick veggies for a salad. A single 'L' shaped garden set slightly away from the house, and planted with tall flowers like snapdragons, zinnias or sunflowers creates a private patio area with its own entrance.
A solid choice for durability and function. Reinforced with bracing boards to prevent frost push-out. If you like an organized garden, you'll love how the bracing boards divide your garden into five separate planting areas. The 11-inch-high stacked side boards give you lots of depth to grow both underground veggies like carrots, as well as tall plants like tomatoes.
Simple to install. Each modular kit includes twenty-eight of our 1" Classic Sienna composite boards, twenty 1" stacking brackets and four of our 1" 4-Way bracing brackets. The insulating open-channel boards trap air, providing insulation to your soil. Keeps soil warmer in the Spring and Fall, and cooler in the Summer, so you can grow for an extended period.
Features:
Easy to install
80 square feet of planting area
Create unique designs with 270-degree pivoting brackets
Product Details:
Handling

We will ship all orders within 3 business day of payment.

Delivery

We Do Not Ship Outside of the Continental US.

Return Policy

All items qualify for returns within 30 days of receipt. Buyer is responsible for return shipping on any item that is not damaged.

Feedback

We take our reputation seriously, we buy and sell online, so we understand the value of trust. If you are unsatisfied with your order, please contact us and we will work with you to resolve it to your satisfaction.
We, people are blessed to be given life on planet Earth. But, we carelessly forget our virtues leading ourselves to perceive we are and can be the cause of some of Earth's global destruction's. It is now vitally important for us to realize we are responsible for our planet and need to prevent such crisis and protect Earth.

It takes unlimited time and immeasurable energy to heal Earth and Nature. We need to continue to endeavor for our happiness and for our future and stay connected to mother earth as much as we can.


We want our customers to feel at ease when shopping with us, trusting we do everything in our power to have the floating plants they want to be delivered to them as quickly as possible, while having all the information they need right at their fingertips. With our dedicated team, years of experience and research we'll make sure to get you only the best of the best.
Why Shop With Us?
Our Goal

 

is to help you make your life calmer and beautiful.

Our Store

 is always evolving, we make sure the shopping experience is always world class.
Our Service is beyond words, we always walk our talk. TEST US ;)
We Care about your privacy: from the moment you land on the site and while using our products.
Don't be a stranger find us on all social media platforms!