Lifetime 4' Raised Garden Bed (3 pk.)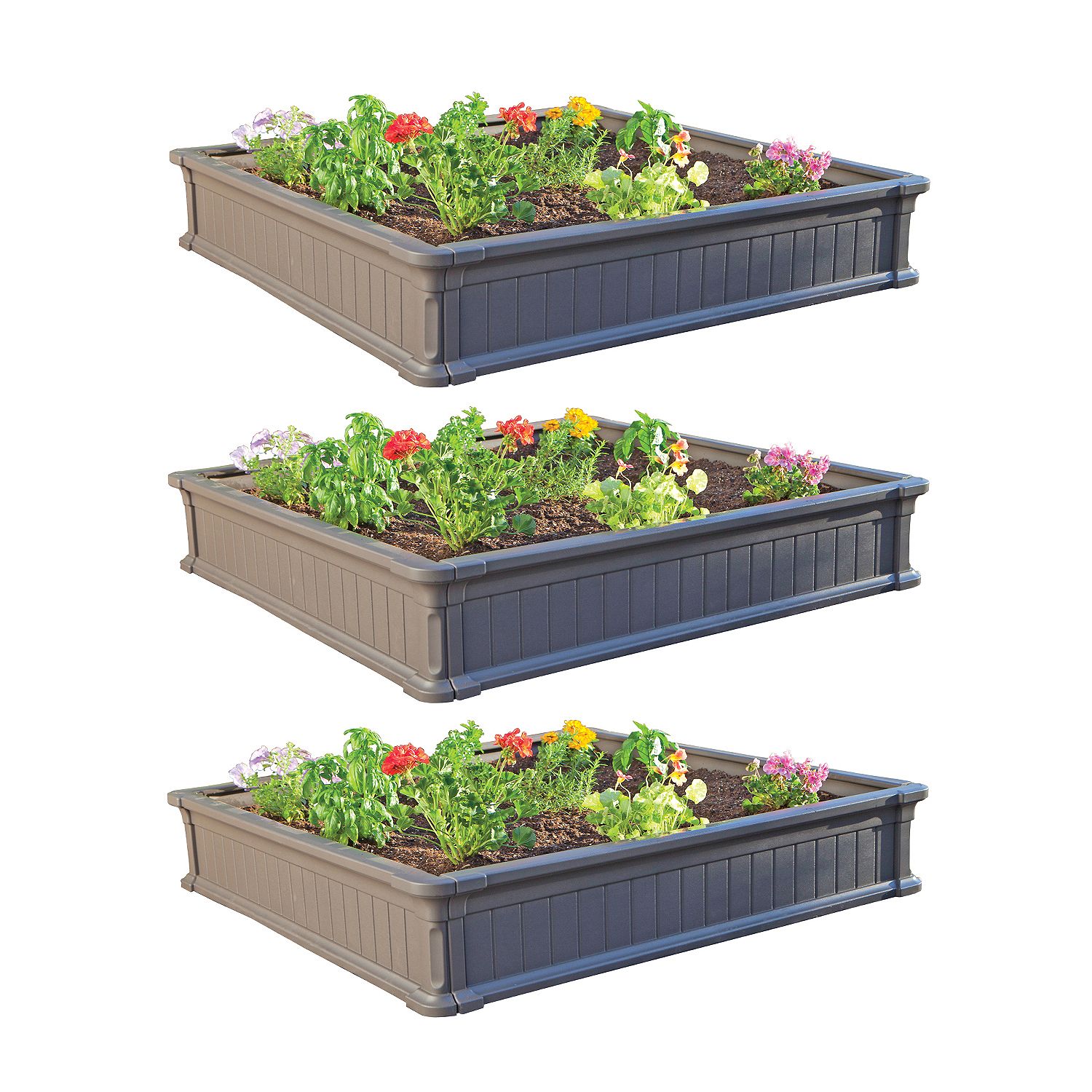 Description
Made with HDPE plastic with rust-resistant zinc-coated screws, the Lifetime® raised garden bed will not rot or attract insects like raised garden beds made from wood.

This kit contains three 4x4 garden beds. Four interlocking panels create the sidewalls. A weed barrier (not included) can be used on the bottom to prevent weeds and underground pests from invading your garden.

With a raised bed you can customize the soil to meet the needs of your plants, if you prefer not to use the natural soil conditions in your area. The soil in traditional gardens becomes compacted from being walked upon and this compaction slows drainage and necessitates excess tilling.

These beds are perfect for square-foot gardening, which allows you to grow 5x as many plants while using only 20% of the space used by traditional row gardens. The interlocking panels allow you the option of relocating your garden bed if necessary.
Features:
Perfect for square-foot gardening
Interlocking panels allow you to set up raised garden beds quickly
Use individually or stack for deeper rooting systems
Product Details:
Handling

We will ship all orders within 3 business day of payment.

Delivery

We Do Not Ship Outside of the Continental US.

Return Policy

All items qualify for returns within 30 days of receipt. Buyer is responsible for return shipping on any item that is not damaged.

Feedback

We take our reputation seriously, we buy and sell online, so we understand the value of trust. If you are unsatisfied with your order, please contact us and we will work with you to resolve it to your satisfaction.
We, people are blessed to be given life on planet Earth. But, we carelessly forget our virtues leading ourselves to perceive we are and can be the cause of some of Earth's global destruction's. It is now vitally important for us to realize we are responsible for our planet and need to prevent such crisis and protect Earth.

It takes unlimited time and immeasurable energy to heal Earth and Nature. We need to continue to endeavor for our happiness and for our future and stay connected to mother earth as much as we can.


We want our customers to feel at ease when shopping with us, trusting we do everything in our power to have the floating plants they want to be delivered to them as quickly as possible, while having all the information they need right at their fingertips. With our dedicated team, years of experience and research we'll make sure to get you only the best of the best.
Why Shop With Us?
Our Goal

 

is to help you make your life calmer and beautiful.

Our Store

 is always evolving, we make sure the shopping experience is always world class.
Our Service is beyond words, we always walk our talk. TEST US ;)
We Care about your privacy: from the moment you land on the site and while using our products.
Don't be a stranger find us on all social media platforms!